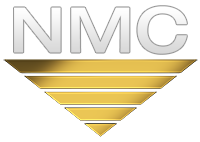 National Material Company, LLC
NATIONAL MATERIAL COMPANY, LLC – National Material Company, LLC (NMC) operates eight steel processing facilities and a network of alliance partners throughout North America to create unlimited geographical reach to serve the manufacturing needs of customers in the automotive, appliance, agriculture, HVAC, construction and office furniture markets. NMC specializes in supplying, servicing and processing the following: Hot Rolled, Cold Rolled and Cold Rolled Motor Lamination Steel, Oriented and Non-Oriented Electrical Steel, and Galvanized, Galvannealed, Aluminized and other coated metals. NMC is a leader in supply chain management to meet the just-in-time requirements of its customers.
ISO Certified quality system

Slitting

Computer-controlled, high-speed precision shearing and blanking

Sheets and plates
Precision shearing and blanking

Pickling Stamping and pre-notching

Complete metallurgical lab and testing facilities
National Material Company – East Chicago Division
4506 Cline Ave
P.O. Box 29
East Chicago IN 46312-0012
USA
Phone: (219) 397-5088
Fax: (847) 952-1596
Email: nmcchicago@nmlp.com
Capabilities
Hot rolled, cold rolled and galvanized
steel; pickling, slitting, cut-to-length and precision blanking
Sales office
ISO 9002 Certified
National Material Company – Los Angeles Division
3151 West Cahuenga Blvd.
Suite 310
Los Angeles, CA 90068-1768
USA
Phone: (323) 436-0114
Fax: (323) 436-0119
Email: nmcla@nmlp.com
Capabilities
Sales office.
National Material Company – Mansfield Division
101 Cairns Road
P.O. Box 1587
Mansfield, OH 44901-1587
USA
Phone: (419) 526-3000
Fax: (419) 524-1429
Email: nmcmansfield@nmlp.com
Capabilities
Hot rolled, cold rolled
and galvanized steel; slitting.
Sales office
ISO 9002 Certified
National Material Company – Detroit Division
1505 Dixie Drive
Suite 2
Monroe, MI 48162-2598
USA
Phone: (734) 384-9720
Fax: (734) 384-9733
Email: nmcdetroit@nmlp.com
Capabilities
Hot rolled, cold rolled and galvanized steel; pickling and slitting.
Sales office
ISO 9002 Certified